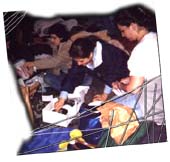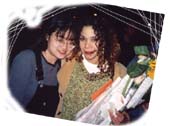 Daphne's Last
by Jo

Daphne's final show....it was so very sad. Everyone in the front two rows were just all there for Daphne. I'm not sure where to start...maybe I'll just go through the entire three days. Ok...here goes.

Thursday - was strolling by the theatre to meet someone there, and found that the line for Saturday nite had started at 11pm Wednesday night. Freaked, but basically all went well.

Friday - Friday was a party. Quite fun. We all peeked and listened to a full cast rehearsal, which started early morning. We all winced and cringed at every other note our new Mimi, Marcy hit. We prayed she'd get better....we all tried desperately to like her. Anyway...line was fun. Some Friday line people were playing RENT songs on a guitar and some flute-like instrument. Fun. :)

Saturday - The dreaded day has arrived. After the matinee, everyone wanted to meet Marcy. (Who was on the first time for the matinee) She was the last one out, and her husband was carrying a HUGE thing of balloons and stuff. Everyone JUMPED her! She was halfway down the hallway and the entire crowd rushes toward her screaming. If I were her, I would have ran back in. It looked really scary.

An hour before they had to be there, Adam and Daphne walked down the block. Daphne clung to his arm, with sunglasses on, lacking her usual vibrant smile, with her head down. The very sight of her looking like that was enough to make half the line that remained there (instead of going to dinner) start to tear... All were afraid to go near her. She was crying.

The show.

The cast walked out. Our eyes already begin to water. One look at Kristen (Lee Kelly), and you could see she had just been crying. The first number began..."RENT"!!!!!!!!!!!!!!!!!! Daphne went wild. She was jumping around SCREAMING at everyone around her. Our spirits lifted. We were charged. My eyes did not leave Daphne for the entire show... I watched her whispering in Aiko's ear, and suddenly a huge smile spread across Aiko's face. Cute. :) Anyway... Light My Candle was cute and sentimental. And for the first time in a long time, Daphne sounded like she had a voice. Out Tonight... it began... WE HOWLED, WE SCREAMED!!!!! Daphne gave it her all. And it must have been the first time we all cried during that song!!!

Another Day was electric. We cried some more. Will I? began...Kristen came onstage crying again. So sad.

La Vie Boheme rocked the house. Norbert was the most hysterical thing ever...(on for Gilles)...Daphne went a bit far with her "to dildos" thing... :) ...and we all yet again got to see Kristen's boobs (which we have all seen one too many times) when she lifted her arms, and her shirt went up....no bra...thanks Kristen. Needed that...right. And during the whole "Trust in desire..." bit, Anthony and Kristen were completely crying. So so sad...

The second act - the entire first two rows was bawling from beginning to end. In the freeze thing in Happy New Year, Daphne and Wilson elbowed each other during the entire thing, and kept laughing. We were all cracking up. Without You...Angel's death...sad...Daphne cried. Good-bye Love just had to be the HARDEST thing to ever sit through. You could hear everyone sobbing and sniffing and all. Adam and Daphne and Ant were all crying hysterically onstage. I thought that would be the worst. No. Your Eyes. And right before it when they bring Mimi in. Oh god... I thought we were all gonna collapse in tears. Idina was crying as they brought her in, and could barely say, "Collins will call for a doctor, honey..." They were all in tears. And the first time, Adam seemed genuinely upset over Mimi. When Adam sobbed out, "God, find a candle!!!!"....we were all so gone.

Your Eyes was the most beautiful I have ever seen. Daphne took his hand and kissed it at the end right before she "died". We sobbed some more. And needless to say the entire finale was a big crying mess. Everyone was crying at the curtain call. I threw handfuls of carnations at her. Some people brought out a HUGE bouquet of flowers for her. Daphne hugged those around her, kissed and hugged Adam a long time...soaked in her applause... picked out people she knew in the front two rows and blew kisses.

And that's it- she was gone.