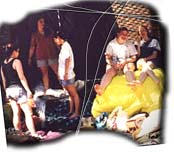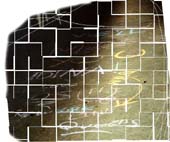 Idina's Last
by Jo

RENT - July 1st, 1997 --- Idina's final show

So, many of us get to the line Sunday morning between 8am and noon. There were only about three groups of people who filled up the whole line. The line was full Monday at noon.

Anyway, Sunday was interesting. We try to set up our sleeping bags and stuff around 11pm and there are about 5000 little bugs flying around. So we spend the next hour searching for bug spray. We finally get it and we all put on about 10 layers of it throughout the night.

Monday - we get woken up like 9 in the morning...they tell us we have to move across the street cuz they are painting the theatre. So we spend the day on the steps of the back of the New Amsterdam Theatre. And let me tell you...a boring day it was. Since Monday was everyone's day off at the theatre (cept the box office guys), there was like nothing to look foward to. We all just lay around in the hot sun all day, and got cranky. Then we ordered pizza and had it delivered to the line. :) We called up, and told them the Nederlander theatre and gave them the address, and they asked, backstage or box office, and we sed, "uh, we'll be outside" and they were like, "OH! the kids on line?" We sprayed ourselves with bug spray again and called it a night.

Tuesday - we got woken up AGAIN at 9, and were told to move again so they could continue painting. This time we got to stay on the block. We moved to the other side of the theatre. We had these huge ass pieces of chalk that you drew on the sidewalk with, so we took that and went back to "the wall", and on the ground back there, we wrote in HUGE letters: "WE'LL MISS YOU IDINA!!! Love, The NY Line Queens." So it'd be the first thing Idina would see before she went inside. So we get our tickets...went and had a very quick dinner, and got back in time to see most of the cast go in. Taye and Idina walked very fast past all of us, and Idina started to cry, and she ran past everyone and dashed into the theatre. :(

Show starts. Idina comes onstage looking rather upset. Over the Moon had never been so funny. Not when Idina did it at least. :) I think I laughed as much for her as when Kristen is on. :) heh. But she held out this one note FOREVER...we cheered. And when it came time to moo, everyone in the front row put on these cow noses we had bought. hehe. And Idina went nuts with her mooing. She was lying on her back on the floor kicking her legs and screaming MOO MOO MOO MOO MOO!!! Then she got up and did jumping jacks and screamed for us to moo. La Vie Boheme rocked. When Idina mooned Taye and Toby, Taye went over and slapped Idina's ass while her pants were down, and held his hand on her ass for about 3 seconds. We were on the floor!!! Then Idina grabbed Toby and planted this huge wet kiss on him. We roared.

Kristen and her do their little kiss after "...and Maureen Johnson, back from her...", Kristen starts screaming to Idina and waves her arms around and grabs Idina, pulls her onto the table, flings herself on top of her and makes out with Idina for at least 5 seconds straight. :)

Let me tell you...Take Me Or Leave Me...my GOD. You all know I love Kristen, and always thought she was better, but there is NO WAY ANYONE could ever top Idina that night. She rocked the house to no end!!! She hit these AWESOME AWESOME notes and it just ROCKED!!! For the first time we were cheering in the middle of the song! And when they finished...the screaming and applause went on..and on...and on...and on...and everyone in the front 2 rows jumped to our feet and gave them a standing ovation. Its gotta be the first standing ovation ever given in the middle of the show... :) Idina started to cry when she sed her line at Angel's funeral. After the big argument thing, Idina shrieks, "Pooooooooooooooookie!!!!!!!!!" We cracked up. Then she wraps one leg around Fredi as she is kissing her and then she puts her other leg around her and jumps onto Fredi, and they kiss for another 10 seconds... :) We cry. Idina and Fredi bring Marcy on for the Your Eyes/finale, and Idina cries from then on through the end of the show. For the finale, everyone starts to tear. A bunch of us place flowers at Idina's feet at curtain call.

We took our time getting outside since we knew Idina would take forever. Well when Idina finally came out (in this long black evening gown) we just got her to sign our books...sed we'd miss her, and she climbed into this limo that was waiting for her, and left.